bigpicture.js
December 15, 2014
bigpicture.js | js library for infinite panning and infinite zooming.
Bigpicture-js is a javascript library that allows infinite panning and infinite zooming in HTML pages.
It has got the following controls:-
Search : F3 or CTRL+F.
Pan : click and drag.
Add text : Single-click.
Move text : CTRL+click and drag.
Zoom In : PageDown or CTRL+ or mousewheel or double-click.
Zoom Out : PageUp or CTRL- or mousewheel or CTRL+double-click.
Created by Joseph Ernest
bigpicture.js
bigpicture.js is a library that allows infinite panning and infinite zooming in HTML pages.
Here the bigger project: www.bigpictu.re/demo !
A collaborative version: github.com/josephernest/AReallyBigPage
NB: It doesn't support mobile browsers yet.
Screenshot
Zoom and pan!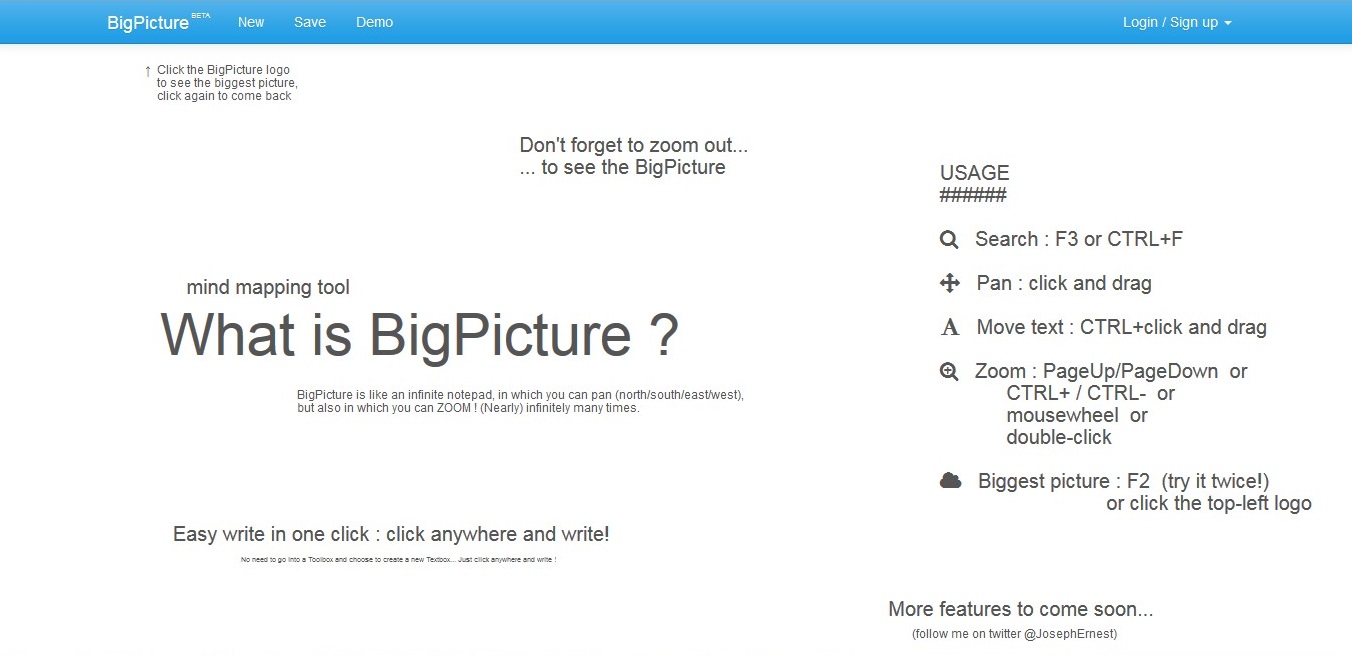 About
Author : Joseph Ernest (@JosephErnest)
License
MIT license
bigpicture.js
Related posts:
To install using Bower
bower install bigpicture.js
Sign up for our weekly newsletter.
10 Most Amazing Couple Gifts
A comprehensive guide to couple gift Ideas for Valentine's Day, Weddings, Anniversaries for your spouse, friend, fiance, boyfriend / girlfriend.
Take me there !
Continue to jquer.in